One of the best-known and flamboyant London showmen who pitched up at Petticoat Lane market every Sunday wasn't Alan Sugar, who started his business career as a stall-holder at the famous East End market, but a black racing-tipster who grandly called himself Ras Prince Monolulu. In fact, from the 1920s until he died in 1965, and unless Paul Robeson was visiting the country, he was probably the most famous black person in Britain.
Petticoat Lane market has, in one form or another, existed in the East End for hundreds of years. The actual road that was called Petticoat Lane had its name changed to Middlesex Street in the 1830s – the word 'petticoat' was deemed a little unsavoury for the young Queen Victoria – but the original name has stuck to mean the general area.
Monolulu usually wore an ostentatious head-dress of ostrich feathers, a multi-coloured cloak and gaiters, a huge scarf wrapped around his waist and was hardly ever without his huge shooting stick-cum-umbrella. Of course anybody who was considered remotely amusing in those days had to have a catch-phrase and Monolulu's, heard by everyone at Petticoat Lane and race-courses around the country, was:
"I Gotta Horse, I Gotta Horse'.
Monolulu was born Peter Carl McKay in 1881 and was originally from an island called St Croix, now part of the US Virgin Islands in the West Indies. He arrived in Britain in 1902 and after a year of mostly menial work he managed to join the chorus of the first all-black West End musical show called In Dahomey.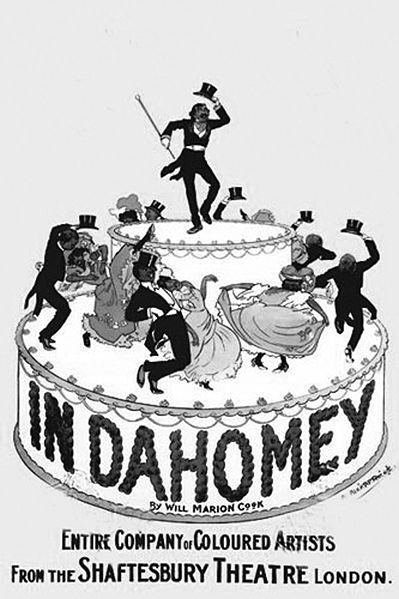 In Dahomey was initially staged on Broadway to limited success and after just 53 performances it was transferred to London's Shaftesbury Theatre. The British public had literally seen nothing like it and the show became a huge sensation. The success was capped by a command performance celebrating the birthday of the Prince of Wales at Buckingham Palace, where it was heralded as "the most popular musical show in London."
The musical featured an elaborate version of the African-American minstrel dance called the 'Cakewalk' and featured several hit songs as well as making stars in London of the principal actors.
After In Dahomey came to an end there wasn't much work for black musical actors in London (to say the least) and Monolulu travelled Europe as a fortune teller, violinist, singer, lion tamer and even a 'cannibal' in a travelling roadshow. He was in Germany when the first world war broke out and he found himself in a German Internment camp called Ruhleben (which, incidentally was a former race course) near Berlin for the duration of the war.
After he returned to England, he began work for an Irish tipster but quickly went solo and took to shouting "I gotta horse" after seeing the religious revivalist Gypsy Daniels shouting "I've got heaven" to attract his crowds.
In 1920 Monolulu reputedly won £8,000 on the Derby when he put all his money on an unfancied horse called Spion Kop. It was a vast sum of money at the time and from that moment on he became a tipster for ever more. When anyone bought a tip from him (at Epsom at the height of his fame he would charge ten shillings) he'd hand over a sealed envelope inside of which was the name of the horse written with careful handwriting on a piece of paper. He'd lean over to the punter and whisper:
"If you tell anyone, the horse will lose".
It seemed that someone always told someone because Monolulu's horse nearly always lost. Although no one ever complained.
From the 1930s any British film that featured a race course would include Monolulu playing himself. Eventually he appeared in over ten films with his last appearance being in a Billy Fury vehicle called, fittingly, I've Gotta Horse.
On Valentine's day in 1965 Jeffrey Bernard, who was working as a racing journalist at the time, visited an ill Monolulu in Middlesex hospital wanting an interview. Bernard had brought with him a box of Black Magic chocolates and offered the famous tipster a 'strawberry cream'. Unfortunately, Monolulu started to fatally choke on the chocolate. Bernard backed out of the ward bidding farewell.
Monolulu lived for a lot of his life in Fitzrovia and there was once a pub named after him called Prince Monolulu at 28 Maple Street. Unfortunately a few years ago someone decided that a three-level cocktail bar called Potion was a much better idea.
Here's an example of Prince Monolulu's patter recorded in 1933.
Prince Monolulu – I Gotta Horse

Tags: betting, East End, horses, Jeffrey Bernard, markets, races