These days the King's Road looks not unlike many other high-streets across the country, albeit a bit posher. If you stroll down the road you'll see, just like anywhere else, Boots, McDonald's and the ubiquitous coffee-shop chains.  In fact, always a trend-setter, the King's Road was where Starbucks chose to open its first ever UK coffee-shop in 1998.
The Kings Road has earned its notoriety for setting rather more exciting trends than over-priced milky coffee of course and it was here that perhaps the most celebrated fashion-statement of the last century really took off – the mini-skirt.
Everybody knows that Mary Quant invented the mini-skirt. Except she didn't. In reality nobody really knows for sure who produced the diminutive garment first. Some say it was John Bates, famous for dressing Diana Rigg in The Avengers so memorably. Others say it was the French designer Andre Courreges, although Quant would later write: "Maybe Courreges did do mini-skirts first, but if he did, no one wore them."
There is no doubt that skirts were getting shorter each year in the early to mid-sixties but this was almost certainly to do with technological advances that enabled tights to be produced relatively cheaply than anything else.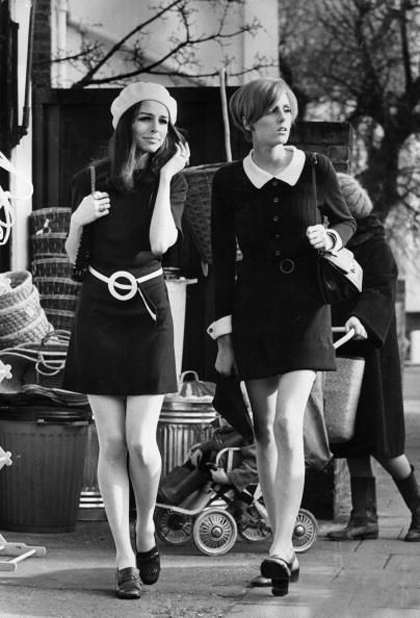 It is, however, almost universally accepted that Quant invented the word 'mini-skirt' after naming her version of the short skirt she was designing after her favourite car – the Mini. Even this isn't exactly true as the Daily Express and other papers used the term in the 1920s to describe the relatively short skirts of the era. It is interesting to note that in Quant's first autobiography 'Quant by Quant', published in 1966, the word 'mini-skirt' isn't even mentioned.
Although it was the first British Starbucks that opened at 128 King's Road in 1998 it wasn't the first coffee shop that opened on the premises. This was the Fantasie coffee bar which opened at the beginning of 1955, admittedly a year or so after Gina Lollobigida opened the Moka espresso cafe at 29 Frith Street, but still one of the first coffee bars in London and certainly outside Soho.
It was owned by an ex-solicitor called Archie McNair who lived above the cafe. He also had a photographic studio in the premises used by a young team of photographers one of whom included the young Anthony Armstrong-Jones later, of course, to become Lord Snowdon the husband of Princess Margaret.
It was at the Fantasie that McNair and his friends Mary Quant and her boyfriend Alexander Plunket Greene worked on a plan to open a boutique on the Kings Road. "It was to be a bouillabaisse of clothes and accessories…sweaters, scarves, shifts, hats, jewellery and peculiar odds and ends," wrote Quant years later.
McNair initially had asked Quant and Plunket Greene to help him with starting up Fantasie but they declined both thinking that coffee bars were to be a flash in the pan. A decision they'd regret as it became crowded every night with a large group of young people who would become known as the Chelsea Set. In the evening vodka was occasionally and illegally added to the drinks and a local Chelsea-based band called the Chas McDevitt Skiffle Group regularly played there. Both of which contributed to the big success of the cafe.
Quant romantically wrote about the 'Chelsea Set' of the time describing a bohemian world of 'painters, photographers, architects, writers, socialites, actors, con-men, and superior tarts' although the author Len Deighton described the same people as 'a nasty and roaring offshoot of the deb world' (it seems they have never left). Deighton was upset how the new crowd ending up replacing 'an amiable mixture of arty rich and bohemian poor' who, rather horrifically, all had to move out of the best parts of Chelsea beyond World's End and even to 'cisalpine Fulham'.
In 1955 McNair and Plunket Greene managed to buy the basement and groundfloor of Markham House on the corner of Markham Square and next door to a grotty pub called the Markham Arms (now a Santander bank). They paid just £8000 for the freehold.
The shop, which they called Bazaar, opened in November 1955 and was an almost immediate success with the stock flying out of the door. Although initially this was partly to do with naively selling their clothes and accessories too cheaply thus not only losing money on everything they sold but also upsetting the local shops and their wholesalers by undercutting the fixed retail prices.
It wasn't long, however, that the trio of entrepreneurs realised that by luck they were on to a huge thing:
We were in at the beginning of a tremendous renaissance in fashion. It was not happening because of us. It was simply that, as things turned out, we were a part of it.
Mary Quant and APG worked incredibly hard. They had also opened a restaurant in the basement of Markham House which soon became the place to come to in Chelsea. But if they worked hard they also played hard – incredibly they were still both only twentyone.
According to Quant the couple always found time to visit the music hall shows at the Chelsea Palace theatre down the road from Bazaar. At the time the shows were often slightly risqué in nature.  "We went once a week" said Mary. "the Chelsea Palace chorus girls wore very naughty fur bikini knickers."
The Chelsea Palace of Varieties had opened for business in 1903 at 232-42 King's Road on the corner of Sydney Street opposite the Town Hall. It seated 2524 people. Marie Lloyd appeared there in 1909 and performed an act so vulgar that a complaint was made to the London County Council.
By 1923 it started to be used as a cinema as well as showing straight plays and ballets. In 1925 it was taken over by Variety Theatres Consolidated and from then until its closure in March 1957 it presented live theatre, often of a risque nature. One of the shows put on in 1955 called 'Burlesque' was produced by Paul Raymond at the beginning of his  career.
During the latter part of 1956 the Chelsea Palace ran a Radio Luxembourg talent competition  and it was won for four weeks in a row by the Fantasie coffee shop regulars – the Chas McDevitt Skiffle Group. McDevitt described his flat in Chelsea at the time:
The flat I the King's Road was an ideal pad in an ideal position. It provided a haven for many an itinerant jazzer, visiting American folkies and unsuspecting embryo groupies.
During the Chelsea Palace talent contests McDevitt met a twenty year old Glaswegian singer called Anne Wilson whose stage name was Nancy Whiskey.
Within six months Nancy Whiskey and McDevitt's skiffle group had recorded a single called Freight Train. Amazingly, to most people concerned, it actually ended up in the charts on both sides of the Atlantic. They even appeared on the Ed Sullivan show in the US along side the Everly Brothers six years before the Beatles' famous appearance.
The particularly British institution of skiffle only lasted two or three years perhaps but its influence was long-lasting. It was a do-it-yourself reaction to the bland mediocrity that many young people felt about the popular music of the time. This was echoed twenty years later in the mid-seventies with punk which had a lot of similarities with skiffle. The Kings Road played its part in that too.
With his new success Chas McDevitt opened his own coffee bar in Berwick Street in Soho which he called, of course, the Freight Train coffee bar.
In 1957 the Chelsea Palace was renamed the Chelsea Granada and was to become a cinema. Although almost immediately the building was leased to Granada Television, within the same company, and the stalls in the theatre were replaced by a studio floor and it became Granada Studio 10 for the next eight years to augment the specially built studio complex in Manchester.
Sidney Bernstein, who with his brother Cecil owned Granada and which had recently won the franchise license to broadcast commercial television in the north west of England, numbered their studios by just using even numbers. This was simply so as to appear they owned more studios than they did.
It was actually the last of the London theatre to TV studio conversions. The Shepherd's Bush Empire was now a BBC studio and Associated Television had already converted the Hackney Empire and the Wood Green Empire.
Incidentally it was at the Wood Green theatre in 1918 that the American magician known as Chung Ling Soo, (or William Robinson as he was really called) was tragically shot and fatally injured while performing his infamous act which involved catching (or not) a bullet between his teeth.
His last words were "Oh my God. Something's happened. Lower the curtain." It shocked everyone. Not so much that he had been shot but that he wasn't Chinese and spoke perfect English.
Boris Karloff wonders 'Who Killed Chung Ling Soo'.
Studio 10 was used for the long running and extremely popular comedy series – the Army Game which ran for five years from 1957. An incredible 154 episodes were broadcast and the cast included many that would become household names for decades to come – Alfie Bass, Geoffrey Palmer, Bill Fraser, Dick Emery and Bernard Bresslaw and the writers included a young John Junkin, Marty Feldman and Barry Took.
The Army Game
Another very popular show that came from Granada's King's Road studio was the variety show called Chelsea at Nine. It ran for three series and purposely took advantage of the studio's location in the capital to feature artists that were appearing in town. This meant that sometimes you would get one of the finest jazz musicians on earth playing after a comedian that would struggle to get on the end of a bill in Skegness.
Ella Fitzgerald once had to introduce an act who was appearing after her on the show as 'the world's greatest song and dance spoons man'. She laughed and laughed and simply couldn't do it.
On the 23rd of February 1959 a very gaunt and very unsteady Billie Holiday was helped up on stage and performed three songs. Strange Fruit, Please Don't Talk About Me When I'm Gone and I Loves You Porgy. Luckily for us the shows were by then being recorded but they proved to be the last she ever made and she died just five months later of cirrhosis of the liver in a New York hospital on 17th July. Only Strange Fruit and I Loves You Porgy still survive.
Billie Holiday – I Loves You Porgy
The Chelsea Palace was shamefully demolished by developers in 1966 after Granada vacated the premises. If one day you're buying a sofa in Heals which is situated on the corner of the King's Road and Sydney Street where the Chelsea Palace once stood, you might take a few moments to note that one of the world's greatest ever singers sang a few songs maybe just where you're standing.
By the time the Chelsea Palace was demolished the miniskirt was ubiquitous on the King's Road and pretty well everywhere else. In the ten years since she and APK had opened Bazaar she had become an international success. Quant and her clothes were an integral part of the so-called Swinging London. At the age of 32, dressed of course in a miniskirt, she received an OBE from the Queen.
Brilliant Pathé footage of Mary Quant in 1967
In 1967 Loudon Wainwright, father of Loudon Wainwright III and grandfather to Rufus and Martha was working in London for Life magazine. In his column called 'The View From Here' he wrote:
Until very recently one of my least crucial handicaps has been a sort of built-in propriety which, for example has forced me to avert my eyes whenever I say that a lady was going to have difficulty with her skirt. By difficulty I mean that the skirt was threatening to go up too high – in a chair, in the wind, as its owner disembarked from a taxi.
Loudon continues…
I'm not sure how this propriety has survived the miniskirt fashions…but a few days of lovely spring weather in London have abolished it forever. The balmy sunshine there brought out the miniskirts in mind-reeling profusion. The town was positively atwinkle with thighs…the training of years misspent in the useless protection of female modesty betrayed me, and I had to learn how to stare. Yet soon the delightful truth that I was supposed to notice -  burst upon me..
A few months later Mary Quant was interviewed in the Guardian
That's the thing about today's fashions – they're sexy to look at but really more puritan than they've ever been. In European countries where they ban mini-skirts in the streets and say they're an invitation to rape, they don't understand about stocking tights underneath.
I recommend Max Décharné's utterly fascinating book The King's Road – The Rise and Fall of the Hippest Street in the World It's packed with so much extraordinary information about this fascinating street in Chelsea and inspired this piece.

Tags: coffee, fashion, fifties, jazz, Kings Road, miniskirts, sixties, skiffle, teenagers