'It's time we were united and stood up for our curls.'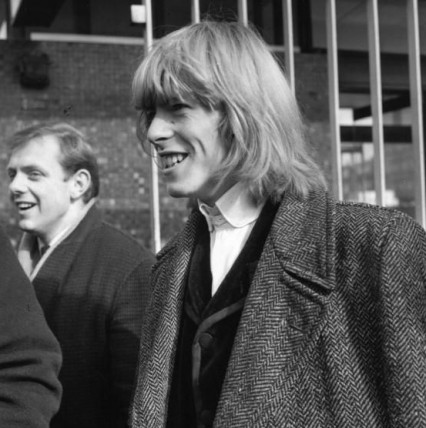 Opposite a graffitied skateboard park and just up the street from Brixton's premier music venue – The Academy , is Stansfield Road where David Robert Jones was born in 1947. His family stayed in Brixton for just six years before they moved to the South London suburb of Bromley a few miles a way. Bowie went to Bromley Technical College and studied art and graphic design (incidentally he was taught by Peter Frampton's father).
David Bowie's first proper band, formed in November 1963, was called Davie Jones and the King Bees – and they released one single called 'Liza Jane' on the 5th June 1964. The band sold few records and soon split up due to their relative lack of success.
Later in the same year David appeared on the BBC's Tonight programme, a current affairs show presented by Cliff Michelmore. He was asked to appear after starting the Society for the Prevention of Cruelty to long-haired men.
The London Evening News reported on the society quoting Bowie;
"It's really for the protection of pop musicians and those who wear their hair long,' explained the founder and president, David Jones, of Plaistow Grove, Bromley. 'Anyone who has the courage to wear their hair down to his shoulders has to go through hell. It's time we were united and stood up for our curls.' David is in the process of enrolling members. 'Everybody makes jokes about you on a bus, and if you go past navvies digging in the road, it's murder!'"
Bowie's next band was Davy Jones and the Mannish Boys and after playing as the backing band for Gene Pitney on a Gerry and the Pacemakers' tour they released a single in March 1965 – a cover of Bobby Bland's I Pity The Fool. On the b-side, however, was Bowie's first ever recorded composition called 'Take My Tip' (Jimmy Page was the young session guitarist).
The Mannish Boys' manager Leslie Conn arranged for the band to appear on the BBC show Gadzooks! It's All Happening but the producer Barry Langford insisted that Bowie cut his long hair. Bowie, of course, refused and Conn cleverly organised a protest outside the BBC with fans holding banners such as 'Be Fair To Long Hair'.
The BBC eventually backed down on the condition that if there were viewer complaints the band's fee would go to charity. No complaints were received and the band kept their fee. Over the next couple of years Bowie sang with a band called The Lower Third and subsequently a group called The Buzz. Success still eluded Bowie and both bands were short lived although making recordings for the labels Parlophone and Pye.
It was during this time that he changed his name to Bowie to avoid confusion with the singer in The Monkees and in 1967 he recorded an album as a solo project and called it simply 'David Bowie'. Unfortunately the record again sold poorly and it would be two years before Bowie recorded again. During the sessions a novelty single recorded at the same time called 'The Laughing Gnome' which would became a number six hit when it was released in 1973.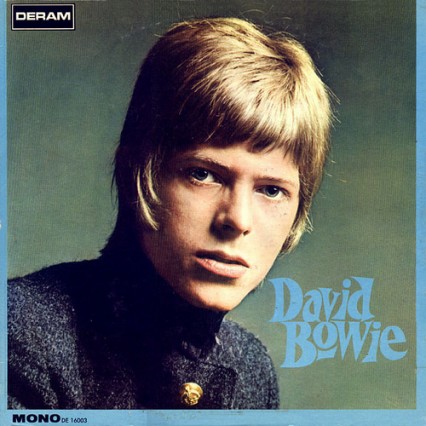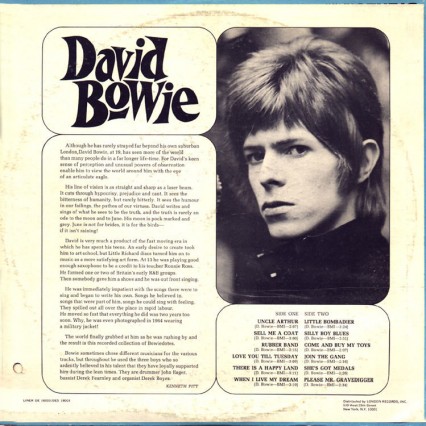 In 1968 the choreographer and mime artist Lindsay Kemp let Bowie appear in his show Pierrot in Turquoise, it was said, in return for sex. Kemp was a fantastically camp character, very self-consciously avant-garde, and once described a performance of his at school (realistically setting the tone for the rest of his career!) -
"I first danced Salome in the dormitory of my boarding school, naked except for layers of toilet paper, heavily rouged with the red paint I'd rubbed off the wall. The boys in the top bunks played mouth organs, and I danced to entertain them. I was busted, of course, not for the decadence of my performance but for the wastage of school resources, namely the toilet paper."
Kemp and Bowie had a very close working relationship and Kemp would become a huge influence on the future star especially in the creation of alter ego characters on stage . Thus Kemp, indirectly through Bowie, influenced an innumerable amount of performers and bands over the next twenty years or so.
After a few weeks of performing together in Pierrot in Turquoise Bowie disappeared one night with the artistic director of their show – a woman called Natasha Korlinov. Lindsay Kemp was devastated and tried to commit suicide by cutting his wrists, failing however in his attempt. Two months later Bowie returned back to Kemp, but unfortunately this time it was the turn of Natasha to try and kill herself, eventually surviving an overdose of sleeping pills.
In 1968 Bowie, as a solo mime artist, opened a show for Marc Bolan's Tyrannosaurus Rex – the performance was apparently a version of the Chinese invasion to Tibet. Performing with Bolan meant that Bowie was introduced to Tony Visconti who was producing T-Rex at the time. Bolan and Bowie were at similar stages of their career – both incredibly ambitious but wavering between different musical styles and ideas – but desperately looking for an approach that would find them success. Visconti became the catalyst that realised this for both of them.
During the same year Bowie, with John Hutchinson and the ballet dancer Hermione Farthingale, formed a multi-media band, initially called Turquoise but subsequently known as Feathers.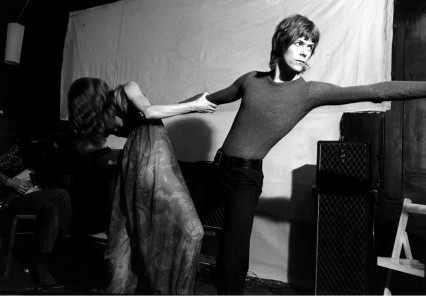 class="lb-half"></span>
Bowie and Farthingale were soon seeing each other and this may have been Bowie's first serious relationship in his life. Unfortunately Hermione soon left Bowie, running off with a male fellow dancer – Bowie later wrote;
"I was totally head-over-heels in love with her, and it really sort of demolished me..it set me off on the Space Oddity song".
It took him along time to get over Hermione and his next album contained two songs about her – Letter to Hermione and Occasional Dream. The album also contained the song Space Oddity which was to become the reason for Bowie's first brush with fame, something he had been seeking for years.
The song was written in 1968 but was planned to be recorded and released to coincide with the lunar landing the following year. A plan that worked and the BBC eventually used the track for their coverage of Apollo 11 and the first moon landing in 1969. Considering the importance of the event (men landing on the moon, not the BBC playing David Bowie) the BBC wiped the tapes of the moon-landing a few years later.
Space Oddity famously used the cheap, portable battery-operated Rolf Harris advertised
stylophone
– Marc Bolan later wrote;
"I remember David playing me 'Space Oddity' in his room and I loved it and he said he needed a sound like The Bee Gees, who were very big then. The stylophones he used on that, I gave him. Tony Visconti turned me on to stylophones. The record was a sleeper for months before it became a hit."
Ironically Visconti saw the song as just a novelty and left the production to an assistant Gus Dudgeon who would soon become famous as Elton John's main producer. The original video made for song actually features Hermione Farthingale.<span class="lb-half"></span>
class="lb-half"></span>
Bowie put the finishing touches to Space Oddity while living with Mary Finnigan (as a flat-mate and occasional lover) at Foxgrove Road in Beckenham, South London. Finnigan and Bowie ran a folk club on Sunday nights at The Three Tuns pub in Beckenham High Street but the night slowly turned into what became to be called the Beckenham Arts Lab. During the summer of 1969, The Arts Lab hosted a Free Festival at a local park. The festival was later immortalised by Bowie in his song Memory of a Free Festival.
In 1969 Bowie met the 18 year old Mary Angela Barnett (he later said that 'they were fucking the same bloke' – the record executive Calvin Mark Lee) and they were married in the Bromley Registry office on Beckenham Lane in 1970. He was by now well on his way to become the rock superstar he had spent years craving for.