It's not widely known but Georgie Fame was slightly connected to the Profumo affair, the political scandal that led to the resignation of John Profumo the Secretary of State for War in October 1963 and ultimately the fall of the Conservative government, a year later, in 1964.
In 1962 Georgie Fame had started a three year residency at The Flamingo Club – famous for its weekend all-nighters where it stayed open 'til six in the morning on Friday and Saturday nights. It was situated at 33 Wardour Street, a building which also housed the Wag Club during the eighties and nineties, and is now the Irish-theme pub O'Neills.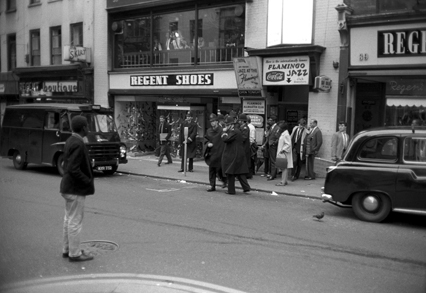 The Flamingo Club which originally specialised in modern jazz was opened by Rik and John Gunnell in 1959. The club quickly became popular with West Indians and also black American soldiers that were still stationed in quite large numbers just outside London and who had few other places to socialise. Georgie Fame once recalled:
"there were only a handful of hip young white people that used to go to The Flamingo. When I first went there as a punter I was scared. Once I started to play there, it was no problem."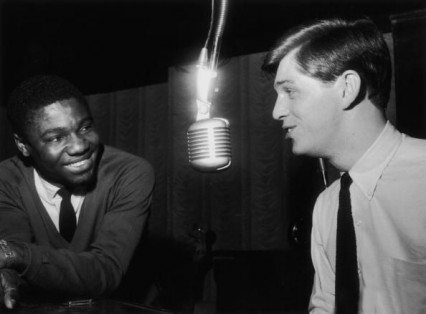 Fame, who was born Clive Powell but was instructed to change his name as part of Larry Parnes' stable (he was originally Billy Fury's pianist), often employed black musicians, one of which was the strikingly named 'Psycho' Gordon – a Jamaican who come to the UK in the late 1940s.
Psycho Gordon often brought to The Flamingo Club his brother 'Lucky Gordon' a part-time jazz singer and drug dealer. Lucky had also been a boyfriend of the infamous Christine Keeler and it was at one of the hot and sweaty 'all-nighter' Flamingo sessions in October 1962 when Gordon bumped into another of Keeler's black lovers – Johnny Edgecombe.
Gordon and Edgecombe started arguing and it soon developed into a vicious knife fight. The fracas ended with Edgecombe badly slicing the face of, this time a rather unlucky, 'Lucky' Gordon. No one knew, least of all the two protagonists, but the fight started a slow-burning fuse that eventually caused the explosion that became the most infamous political scandal of the twentieth century.
Gordon was treated for his wound at a local hospital but a few days later in a fit of jealousy, and rather unpleasantly, he posted the seventeen used stitches to Keeler and warned her that for each stitch he had sent she would also get two on her face in return.
Meanwhile a scared Edgecombe, along with Keeler, went into hiding from the police. Keeler even bought a Luger pistol in a bid to protect herself from the dangerous and still threatening Gordon.
On December 14th 1962 Keeler finished with Edgecombe, after finding him with another lover, saying that she would testify that it was he who had attacked Lucky Gordon at The Flamingo two months previously.
Keeler went to visit her friend Mandy Rice-Davies at Stephen Ward's flat in Wimpole Mews with Johnny Edgecombe following her there in a taxi. When Keeler refused to speak to him he angrily shot seven bullets at the door of the flat. Frightened, the girls called Ward at his surgery and he in turn called the police who soon came and arrested Edgecombe.
Before Edgecombe's trial, Keeler was whisked off to Spain, one assumes because somebody, somewhere, thought various people would be badly compromised if she was allowed to talk in the witness box. Conspicuous by Keeler's absence Edgecombe was found not guilty, both for assaulting Lucky Gordon and the attempted murder of Keeler. He was, however, found guilty of possession of an illegal firearm, for which he got seven years and served five.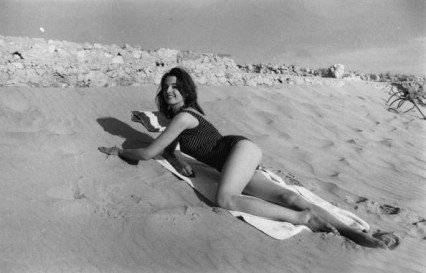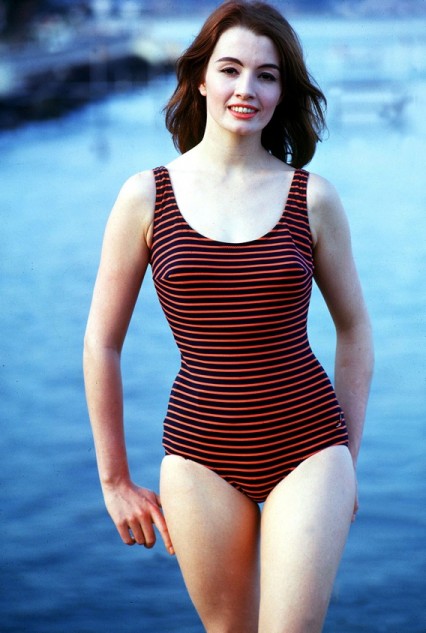 On April 1st 1963 Christine was fined for her non-appearance at court and Lucky Gordon was bundled away by the Metropolitan police, shouting "I love that girl!" Not long after Keeler bumped into Gordon back at The Flamingo Club and again he had to be dragged away from her by other West Indian friends of hers.
In June 1963 Gordon was given a three year prison sentence for supposedly assaulting Keeler and in the same month Stephen Ward was arrested for living off Christine's immoral earnings.
By now the whole story involving Profumo and the Russian attache/spy Ivananov was emerging, drip by drip. The chain of events that started with the fight of Keeler's jealous ex-lovers at The Flamingo Club eventually caused the infamous resignation of the Secretary of State for War John Profumo, the suicide of high society's favourite pimp, portrait painter and osteopath Stephen Ward, and ultimately, it could be said, the fall of the Conservative government.
In December 1963, after a drunken tape-recorded confession that she had lied about Gordon assaulting her, Keeler pleaded guilty of perjury and conspiracy to obstruct justice at Lucky Gordon's trial. Her barrister had pleaded to the judge before sentencing:
"Ward is dead, Profumo is disgraced. And now I know your lordship will resist the temptation to take what I might call society's pound of flesh."
It was to no avail and Christine Keeler was sentenced to nine months in jail which ended what her barrister termed, a little prematurely:
"the last chapter in this long saga that has been called the Keeler affair."
Just before Christine Keeler's trial Georgie Fame and the Blue Flames recorded a live album entitled Rhythm and Blues at "The Flamingo" and it was released in early 1964. The following year Fame had a number one hit with his version of 'Yeh Yeh'.
After the publicised trouble at The Flamingo, American service men were banned from visiting the club. However, drawn by the weekend all-nighters and the music policy of black American R 'n' B and jazz, The Flamingo Club was already becoming the favourite hang-out for London's newest teenager cult, the Mods. But that's a different story…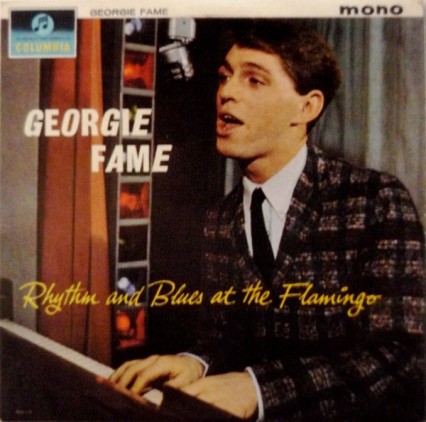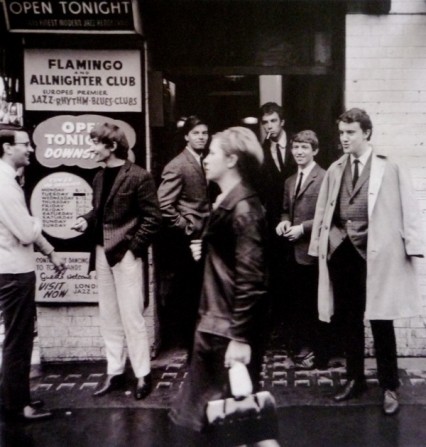 Georgie Fame – Night Train (recorded at The Flamingo)
Derrick and Patsy – Hey Boy Hey Girl
Bobby 'Blue' Bland – Turn On Your Lovelight
Smokey Robinson and the Miracles – I Gotta Dance To Keep From Crying
Kim Weston – Looking For The Right Guy
Brenda Holloway – I'll Always Love You
Buy some Georgie Fame stuff here