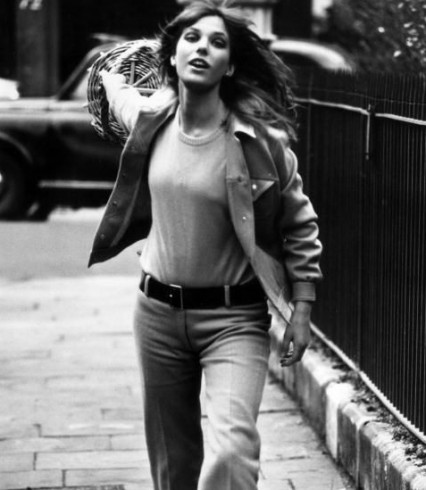 In 1966 Anthony Blond published a modern London guidebook edited by Hunter Davies * called The London Spy: A Discreet Guide To The City's Pleasures. An updated version was published in 1971 but despite trying, The London Spy just couldn't shake off its very 'swinging sixties' feel. As a guide to the capital city the book has dated hugely.
The chapters about meeting the opposite sex are pretty amusing reading today but also a little bit frightening and seedy. They do, however, give us a chance to see the appalling prevailing sexism of the time, and it's worth noting that the chapter with tips for men is over sixteen pages long, whereas the chapter advising women (on how to meet a man in the capital), lasts just over one page. The main advice from which, essentially, is to remind women to avoid pubs if they are alone, saying;
"You may be thirsty, but nobody, nobody will believe you."
The last advice it gives to women is:
"Finally, don't lie down in one of the parks in your bikini. Men will swarm like flies at the merest glimpse of your delicious body."
The author even suggests that he has known men with children to send a child over to a sunbathing woman and get them to say:
"Daddy says, he is sure you would like an ice-cream."
I have now, believe it or not, covered the entire chapter for female readers, so I will now offer some excerpts from the chapter aimed at men, which is entitled;
Women for Men, 1: Pulling
So here is a chapter of practical counsel on how and where to make the acquaintance of willing young ladies – a useful art henceforth referred to as 'pulling birds'.
1) PULLING BY DAY
The traditional place to get your eye in is down the King's Road. Arm yourself with a pint or a Pimms or a Pernod and position yourself on the pavement outside the Chelsea Potter or the Markham Arms.
You know what you're there for; they know what you're there for. King's Road birds are used to being accosted every 30 yards they walk. So, if a tasty one sails past you and she is still alone, you're backing yourself to succeed where up to 15 other fellows have already failed that morning.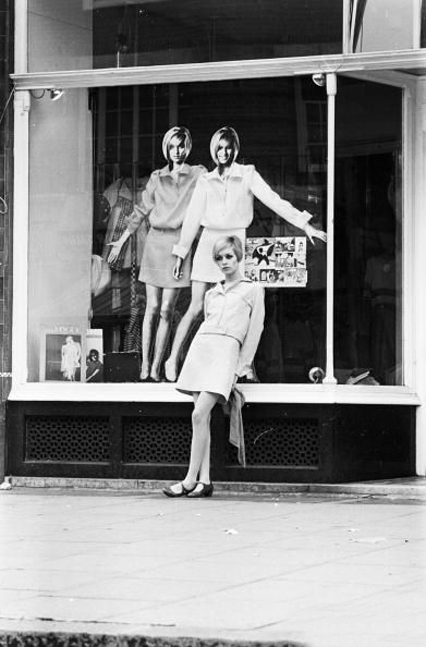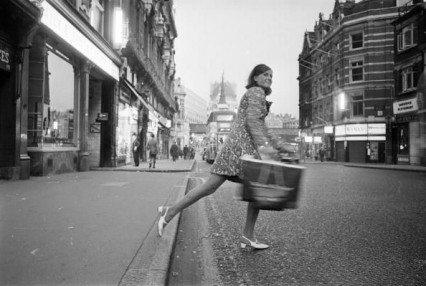 Not that all King's Road birds are groupies (girls passed around like a joint between members of a pop group). But they are wary. So have a few shapes by all means to get your chat flowing. But don't be discouraged if you draw only blanks.
Now let the pulling proper begin, and, if you are still intent on sniffing a swinger catch a cab up to Kensington High Street. Here's where the dolly birds shop.
In the old Biba's, a gentleman, feigning short-sightedness or absent-mindedness or both, could wander downstairs and through a plush curtain. Bang into a huge roomful of up to 100 darlings, most only in tights and chattering like monkeys, as they tried on the gear. Regretfully the writer cannot personally endorse the new Biba in this respect, as he is barred.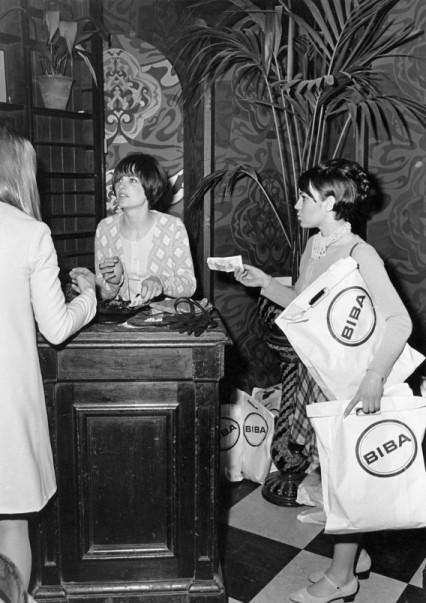 How to pull in Kensington High Street? There are as many well tried appraoches as there are for the act itself. Of course purely in the interests of the standards of the game you will do well to try to be slightly original. Invitations for a coffee ten to be reather dreary. 'Haven't I seen you dancing on Top of the Pops?' is a stopper. 'Can I do your washing for three weeks?' had its vogue a while back.
The only grotty cliche which never dates (feminine vanity being what it is) is the 'I'm a photographer…' ploy. And a golden rule is. if she's carrying anything (a hold-all, a Biba's bag), take it from her firmly and continue walking in the direction she wwas heading. So she has got to tag along and listen to you unless she's willing to resort to an actual scene, which would be uncool.
Don't just snatch in the streets. Put yourself about in the shops, where the shopbirds have to stand around all day and get bored. They welcome a bit of action. So if you see one even vaguely showing out, interview her on the merchandise and follow up with your pitch. Specially recommended stores include Fenwicks, Bond Street, Simpsons, Piccadilly and Peter Robinsons, the Strand (remember a bird in the Strand is worth two in Shepherd's Bush).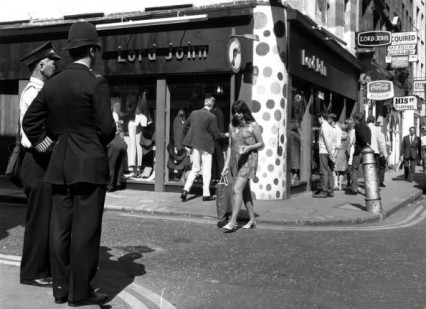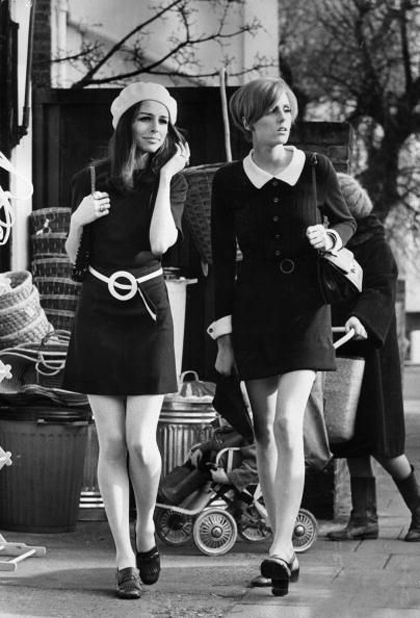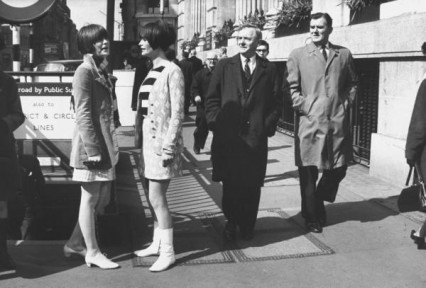 As for the offices, be sure to visit J. Walter Thomson in Berkeley Square. This American-owned advertising agency is famous for recruiting spectacular birds, presumably to keep the clients calling. March purposefully into the main entrance and wander around with a brief case. Here's where you will find the account executives' secretaries. They are awfully keen if they think you are important.
If you have a fancy for Miss J. Hunter-Dunn and have the necessary gear and talents, get up to Campden Hill Tennis Club, Aubrey Walk, W8. Before 18.00 hrs. there are loads of birds and very few fellows. And they are friendly if they think you are the right sort – particularly the tasty mums. Or if the sun is shining proceed to the Serpentine Lido. Again its great for mums.
2. PULLING BY NIGHT
Once a chap has mastered the arts of pulling by day, when a certain amount of front is needed even in swinging London, he'll be able to pull at night with his eyes shut.
First there are the DISCOTHEQUES. You'll find them all over the West End and in clusters in Earls Court, Swiss Cottage, South Kensington and Streatham. Young Ladies go to all these places with their mates in twos and threes and fours and fives and will deem it an unsatisfactory evening if they leave with their mates.
Where you will very definitely can pull are less way out scenes like Lulu's, Young Street, W8 (nurses and secretaries), Die Fledermaus, Carlisle Street, W1 (Au Pairs), La Cage d'Or, Broadhurst Gardens, NW3 (Golders Green teenyboppers) and the 007 Room at the Hilton (hairdressers).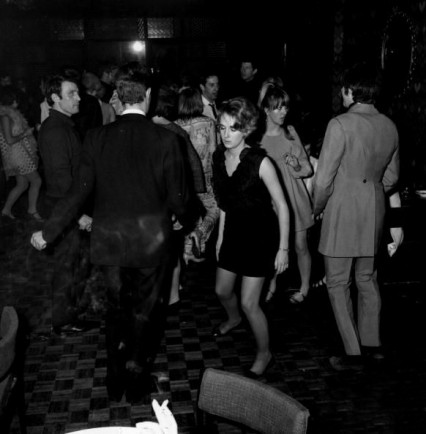 But before the discos were the DANCE HALLS. Great British institutions where males and females go roughly in even numbers. Which are full every night of the week. In this respect we British don't appreciate how lucky we have been – and still are.
The greatest of them all, where every puller worthy of the name has been and seen and conquered – the Hammersmith Palais. that brilliant pasticcio of neon, tinsel and plush. Evocative scents of hair lacquer, gin and Bodymist. And close on teh Palais' patent leather heels – the Lyceum in the Strand. The Royal, Tottenham High Road, N17. The Orchid Ballroom, Purley. For the veteran puller, the magic of these names. And how bitter sweet the names gone by. The Locarno Ballroom, Streatham. The Atheneum, Muswell Hill.
The overseas puller in particular is exhorted to visit a real British dance hall. You'll see darling birds in plenty (be careful about schoolgirls through – in their dolly rocker dresses it's very hard to tell).
Pulling by night, part two, concerns the PUBS. Much cheaper than the discotheques, obviously, and even cheaper than the dance halls. Because all you need to work yourself into a striking position is a half pint of bitter in your hand.
Pubs are particularly good places for pulling middle class birds. Probably because these particular young ladies come from a back ground of scrimping and scaping on pleasures and comforts to pay for school fees. So they are perfectly happy to tag along on a date that costs the price of a few half pints of bitter. Yes, they'll even drink beer too!
Notable pubs offering the above facilities include the Windsor Castle, Camden Hill Road, W.8, The Sun in Barnes, The Dove in Hammersmith, the Harrington Hotel, Gloucester Road, SW7. Pullers interested in the arty, purple-toenailed variety are advised to visit Henekeys (now the Earl of Lonsdale), Westbourne Grove, W11 and Finch's and Queen's Elm both in Fulham Road, SW10.
PULLING FOREIGN BIRDS
Where else in the world could a sportsman sniff out a darling from Dallas, a teenybopper from Tokyo, a raver from Rotterdam and a wobbly one from Woggawogga – all in one afternoon?
The interesting feature of recent years has been the upwards progress of North Americans to a position comfortably above the line. It appears that the old 'hands-off' line, 'American boys like their goods freshly wrapped' is no longer a totally inhibiting consideration. Nevertheless international golden rules should be borne in mind irrespective of race or creed. In particular remember,
'you'll never score with a schoolteacher, but always with a nurse.'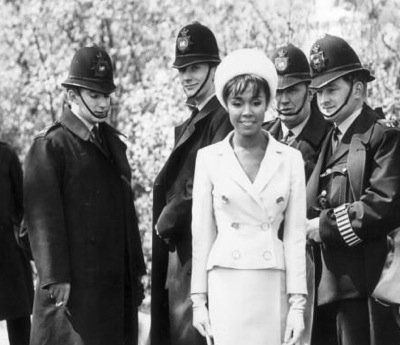 There used to be a specialised scene for sniffing out Aussies – the Overseas Visitors' Club in the Earls Court Road. Regretfully this now appears defunct. But you'll find them quite easily in pubs in the Earls Court and Notting Hill areas. Look out for strapping big birds swilling pints and shaking with laughter. These are Aussies. Many of them are highly tasty. In the Surrey, Surrey Street, WC2…you'll find not only birds but Fosters Lager too. What more could any man ask?
Au Pairs are pulled in discotheques designed for the purpose, which advertise 'continental ambiance' or sometimes even 'stim-mung'. Above all remember the golden au pair rule – find where she's living first. Many's the unwary puller who's found himself driving through the night to locations verging on the outlandish. Forest Hill. Watford and Camberley to name but three.
Well, there it is, puller. You've been reading long enough. Now stiffen your sinews, lick your lips, adjust your dress and go out and get 'em.
If you need to brush on your pulling techniques or perhaps need to learn how to protect yourself, second hand copies of THE LONDON SPY can be bought here
Hunter Davies the original editor of The London Spy went on to write one of the greatest books ever. You can buy The Glory Game here.
Frankie Valli and the Four Seasons – I Can't Take My Eyes Of You
Frank Sinatra – What A Funny Girl You Used To Be